Hello! I'm in the latest boxed set from What to Read After Fifty Shades of Grey. If you haven't read "Mad for You" yet here's your chance to check the first of the series out and get a ton of great reads from fabulous authors. It's #FREE with #KINDLEUNLIMITED and on sale for $.99 for a limited time.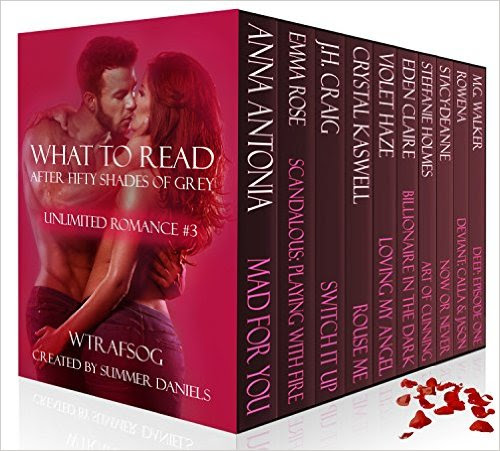 This great new box set features ten steamy erotic romance reads by a great new lineup of authors!!
Make sure to check out our other WTRAFSOG Box Sets here: http://amzn.to/XWaILq
Mad for You by Anna Antonia — Emma Adams had always considered herself level-headed, even-tempered, and most of all, sane. So how did she become someone who couldn't seem to push Gabriel Gordon away? No matter how sweet his words could be or how easily passion exploded between them, getting involved with the outrageously wealthy playboy had to be the height of insanity.
Scandalous: Playing with Fire by Emma Rose — Olivia is out of options, and now faces a tough choice that puts her between two sexy billionaires. Drowning in debt after finishing college with a literature degree, Olivia must face the music – Get a job or get kicked out of her apartment. She interviews for a position at a successful restaurant and is willing to do anything to prove herself.
Switch It Up by J.H. Craig — The second book in The Switch Stories series, Switch It UP is a BDSM erotic romance. It features Mistress Madeline and her lover, artist Jason Merrin. The ordinarily attentive Jase is growing distant, and Miss Madeline has to solve the mystery of his past to bring him back to her.
Rouse Me by Crystal Kaswell — C-list TV actress Alyssa is trapped in a loveless relationship with her high school sweetheart. She avoids anything that might pull her back into a spiral of bulimia. Even passion. Enter Luke. The cocky lawyer is one sexy, witty, totally irresistible temptation.
Loving My Angel: The Complete Serial by Violet Haze — Danita's in a desperate place, harboring secrets and a pain so deep all she wants to do is die in peace. Ryker's love for the woman he calls Angel means he'll do anything to keep her in his life now that she's stumbled back into it. Will the truth finally set them both free, or is it already too late?
Billionaire in the Dark by Eden Claire — My name is Kaylie Flanders, and maybe you heard my story. I was held captive by a psychopath for a decade; six years ago, I escaped. Freedom, though, is harder than I thought it would be. The only place I feel truly alive is inside the darkness of Club Shamballa.
Art of Cunning by Steffanie Holmes — Alexandra Kline has landed her dream job – curating her first art exhibition at the prestigious Halt Institute in the small English village of Crookshollow. But the dream quickly turns into a nightmare when she's forced to work with Ryan Raynard – the arrogant, reclusive artist who refuses to co-operate with her.
Now or Never by Stacy-Deanne — While investigating the murder of Brett Myers, homicide detective Alexis Adams finds a possible connection between Myers' murder and Grant Copeland, the most powerful man in town. Alexis has recently moved back to Tate Valley, California and has never forgotten how Grant ruined her mother's life.
Deviant: Calla & Jason by Rowena — Jason has been in love with his best friend's girl for a while. The three of them have known each other since adolescence, but Scott whisked Calla away before Jason could begin to act on the tender feelings he has for Calla. But when he is kidnapped, he finds himself trapped in an unfamiliar place with Calla, and a disembodied voice tells them that the only way they'll be freed is to give in to carnal intimacy.
Deep: Episode One by M.G. Walker — Lily Day finds herself devastated after an interview for her dream job crashes and burns. On her way out, she bumps into Cole Roman, the secretive billionaire CEO, who takes an immediate liking to Lily. This meeting sets off a chain of events that rock Lily to her very core and opens her eyes to a world she never even knew existed.
BUY