Hello, Hello!
In celebration of my birthday month, I've put together a billionaire bundle collection perfect for billionaire lovers. 🙂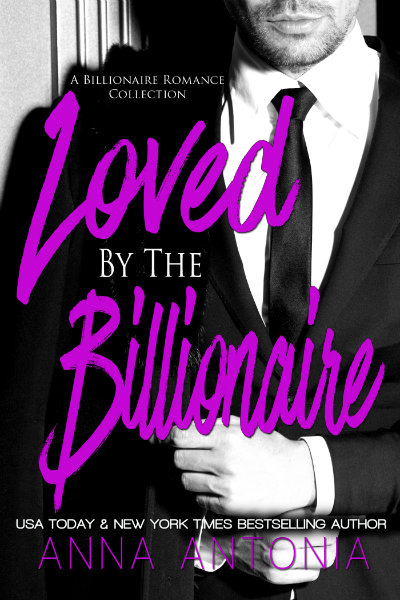 From USA Today and New York Times Bestselling Author Anna Antonia comes 3 passionate novels of what it means to be loved by a sexy and powerful billionaire. . . 
Love is shown in many different ways, but when a billionaire loves you he expresses it in exceptionalways. Sometimes it's the sweet ache that comes from first love, other times it's a bittersweet obsession to make things right again, or even a ruthless display of sizzling domination, but no matter how he shows it, these billionaires are completely head-over-heels in love and will do whatever it takes to prove it.
Adrian
Adrian Hawthorne was a man in complete control until he met her…
Adrian Hawthorne worked hard and played even harder. Money and women were never in short-supply for this charming billionaire. But when he bumps into the curvy Victoria Montford late one night, he can't deny his attraction to her is stronger than anything he's ever felt before. What starts as seduction ends up being an all-consuming love for Victoria, one that lasts even after she abruptly leaves him to go back South.
But what will Adrian do when he realizes Victoria had his child and kept it a secret from him?
NOTE: Standalone novel
Mad for You
Loving Gabriel Gordon was like trying to love the sun…I was destined to burn.
Gabriel Gordon, billionaire and playboy extraordinaire, bedeviled me, teased me, and more often than not, made me want to throw things at his head. Still, just as in high school, I couldn't help but see the pain behind his lazy grin and the shadows in his crystalline gaze. When Gabriel confessed his love for me, I should have been the happiest woman in the world.
Too bad I couldn't believe him…
NOTE: Book 1 of a completed 4 part series.
My Love Forgive
You are responsible, forever, for what you have tamed…
Risa Kelly's whirlwind office romance with Damian Black started in rejection but soon evolved into an intense game of passion and romance. Caught in the addictive extremes of Damian's personality, Risa was convinced that he would never love her the same way she loved him. Eventually, Risa panics and decides to end their relationship.
Damian, however, isn't anywhere near ready to let her go.
NOTE: Book 1 of an in-progress 5 part series
BUY