Hello Lovelies! After much delay and so much patience shown by you all, I'm happy to finally announced the sequel to "My Love Forgive" is out! FYI: Damian and Risa's story isn't done and will continue in "My Love Regret". I hope you all enjoy "My Love Break" as much as you did the first. — Anna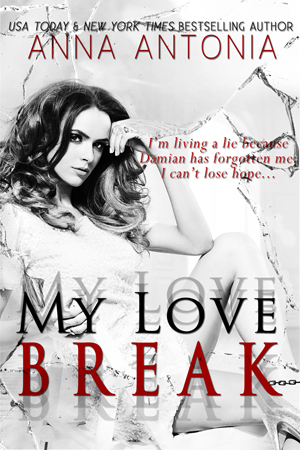 Keep me, push me, claim me, forget me.
Risa Kelly now knows that Hell isn't just being forgotten by the man she loves. It's having to pretend that nothing ever existed between them in the first place. Committed to being by Damian's side, Risa goes through the painful charade of being his perfect PA, even though her heart cries for him to remember their love and her body craves his ruthless discipline…
But Risa can feel Damian is drawn to her, even if he believes he's still with his ex-lover, Gretchen Smith…
Damian Black-Price wakes up to learn he's lost the last six months of his life. Determined to keep his secrets and protect those he cares for from the shadowy underworld of his birth, Damian resumes his respectable life in New York while fighting his dangerous feelings for Risa.
But amidst endless workdays and society galas, Damian is losing against the obsessive instinct that demands he keeps Risa anyways…
NOTE: This is not a stand-alone novel. Damian and Risa's bittersweet romance will continue in the upcoming novel "My Love Regret."
BUY