My boxed-set madness is winding down (for now), but what a way to end it by being in "Shades of Domination: Fifty by Fifty #2: A Billionaire Romance Boxed Set." My piece "A Beautiful & Dark: Obsession" is the first part of a new series debuting this year. As always, the set is on sale for $.99 but only for a limited time.
We're also running a rafflecopter to celebrate so be sure to keep reading for your chance to enter. 🙂
ALSO, we're having a Facebook Party in celebration of our release on January 22. We'll be partying from 5:00pm EST and ending at 10:00pm EST. I'll be on from 7:00pm to 7:30pm giving away Amazon Gift Cards and free ebooks. Come party with us for your chance to win prizes!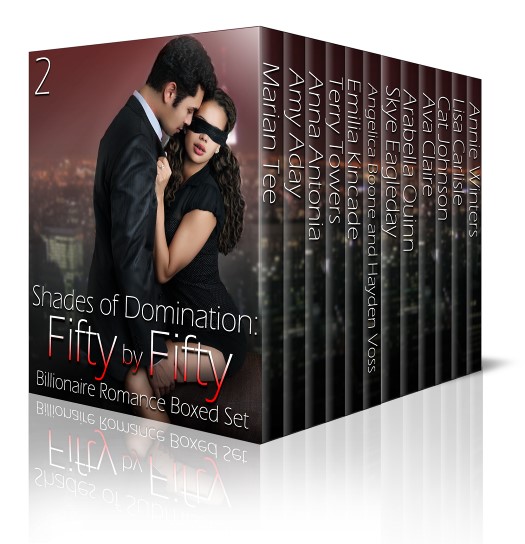 Fifty By Fifty: Fifty Novels by Fifty Bestselling Authors in four big boxed sets – look for the next one coming soon!
We got you going with Volume 1, but now Volume 2 has arrived to turn up the heat.
Let a whole new set of hot alpha males steam up your eReader. They will get what they want. Passionate, unrelenting, and insatiable, these men intend to do everything it takes to keep you coming back for more.
So pour a glass of wine and cuddle up with this box set. The door to the helicopter is open, and that goddess inside you is saying YES!
Cat Haus by Cat Johnson
I'm Cate. Two years ago I was in college. Today, I'm a legal prostitute and I was happy with that, until John arrived. He's a billionaire. I'm a hooker. Now, things are far from simple…
Dark Velvet by Lisa Carlisle
Grad student Savannah is thrilled to be accepted to a prestigious art colony. When she meets the French sculptor, Antoine, an attraction grows, turning dangerous when she discovers his dark secret.
Club Soria by Emilia Kincade
Maya's life is falling apart, and she retreats to exotic Thailand. She never expects to meet a dashing and dominating reclusive billionaire. She certainly never expects him to take a liking to her…
Letters of Intent by Angelica Boone and Hayden Voss
Abigail finds herself in a dangerously spun web in the office and her entire career is at stake, but so is her heart. She needs to figure out who tricked her into an office romp before it's too late.
My Rockstar Billionaire by Amy Aday
A curvy girl trying to get over a breakup, while in a tropical paradise meets a hot mysterious stranger who has secrets.
The Billionaire's Son by Arabella Quinn
An erotic romance series packed with intrigue, danger, secrets, powerful billionaires, clandestine sex clubs, sizzling sex scenes and one sinfully sexy billionaire playboy behaving very badly.
Unwillingly Yours by Marian Tee
Curvy bookworm Jaike Hepburn's succumbed to the inevitable. She no longer cares what the whole school thinks about billionaire heir Derek Christopoulos becoming her Dom, and she his Sub.
The Vigilante's Lover by Annie Winters
A small-town girl is mistaken for a spy and kidnapped by the dark knight of a Vigilante underground.
A Beautiful & Dark: Obsession by Anna Antonia
Sophia Carter has loved Alexander Monroe Draven II since she was a girl, but he became an obsession too dangerous to keep. Now he's back. The billionaire wants Sophia & he won't take no for an answer.
The CEO and the Girl From the Coffee Shop by Terry Towers
Beth is unlike the women Gabriel usually 'dates'. Desperate to know more about her, he offers her a job as a live-in cook in an attempt to get closer to her.
Sex Research by Skye Eagleday
When Shauna's Professor violates research ethics by urging her to become his submissive–will the virgin Shauna risk her future by answering her own questions about sex by crossing this forbidden line?
The Billionaire's Contract by Ava Claire
Recent college grad Leila Montgomery just landed her dream job. The catch? Her sexy billionaire boss is looking for a personal assistant…and private submissive.
BUY
Amazon | Amazon-UK | Apple | BookStrand | Kobo | All Romance eBooks
RAFFLECOPTER
FACEBOOK PARTY
Come party with us! https://www.facebook.com/events/362610050570362